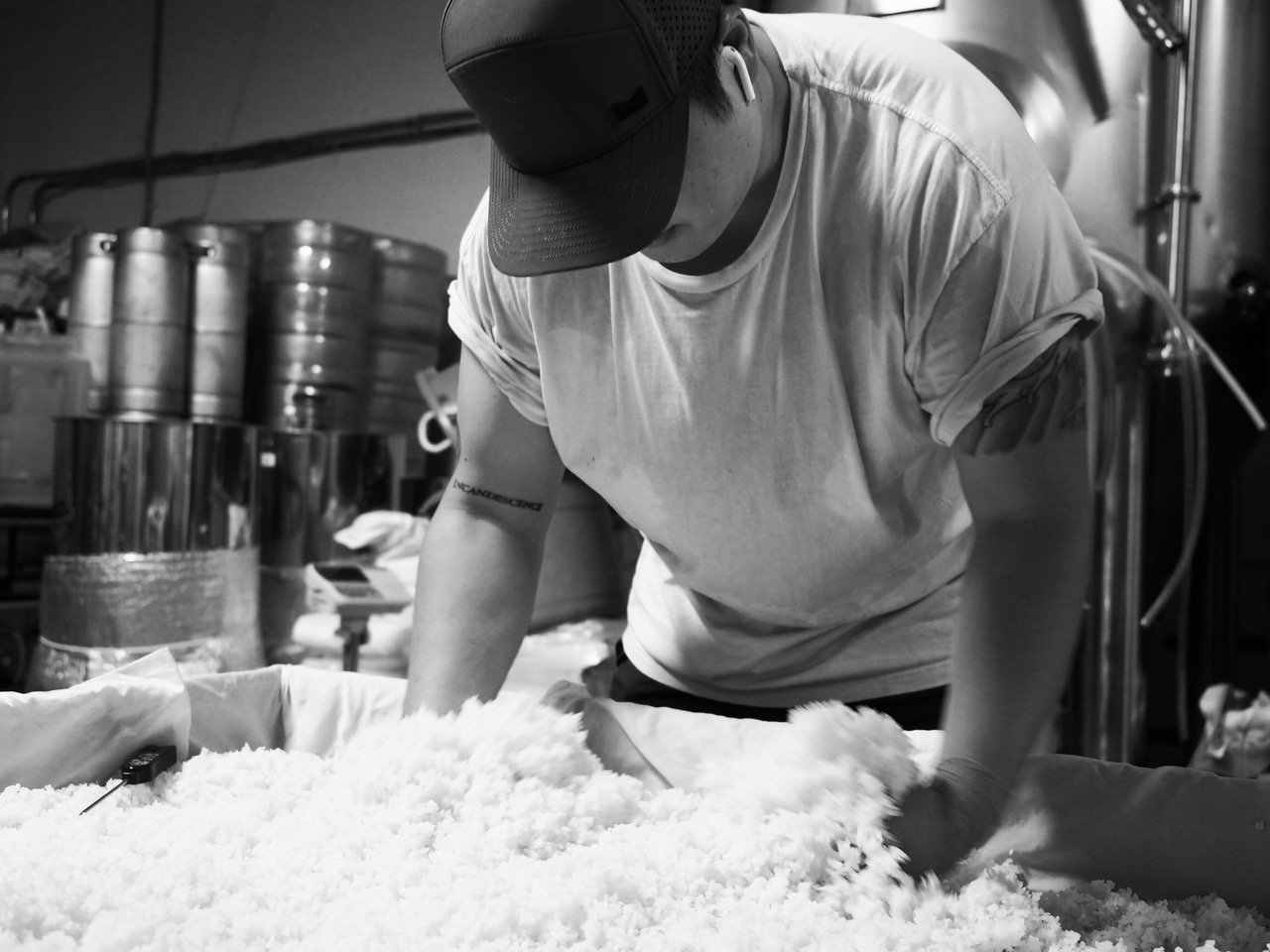 **Reposted from Rice, Water Earth: Notes on Sake**
The sake world is so exciting now in part because of the way it seems to be infiltrating every corner of the world, from New Orleans to New Zealand. In North America, it's hard to get an exact bead on that growth because the industry "is still in its infancy" and new breweries are in various stages of planning and building, notes Weston Konishi, president of the Sake Brewers Association of North America.
Yet over the last year, he's noticed "a growing number of folks in the southern states who have either opened or expressed an interest in opening commercial sake breweries, including in states like Florida, Louisiana, Arkansas, Kentucky and Texas." He adds, "I'm not really sure why that is–it could be due to access to rice–but it is in marked contrast to other regions where growth has been more incremental. On the whole, though, I see more openings than closures–and that's a good thing!"
Southern California, too, has witnessed some promising sake activity. On my recent trip to Los Angeles, I dropped in on one of two new breweries that have opened recently in the area, Nova Brewing Company.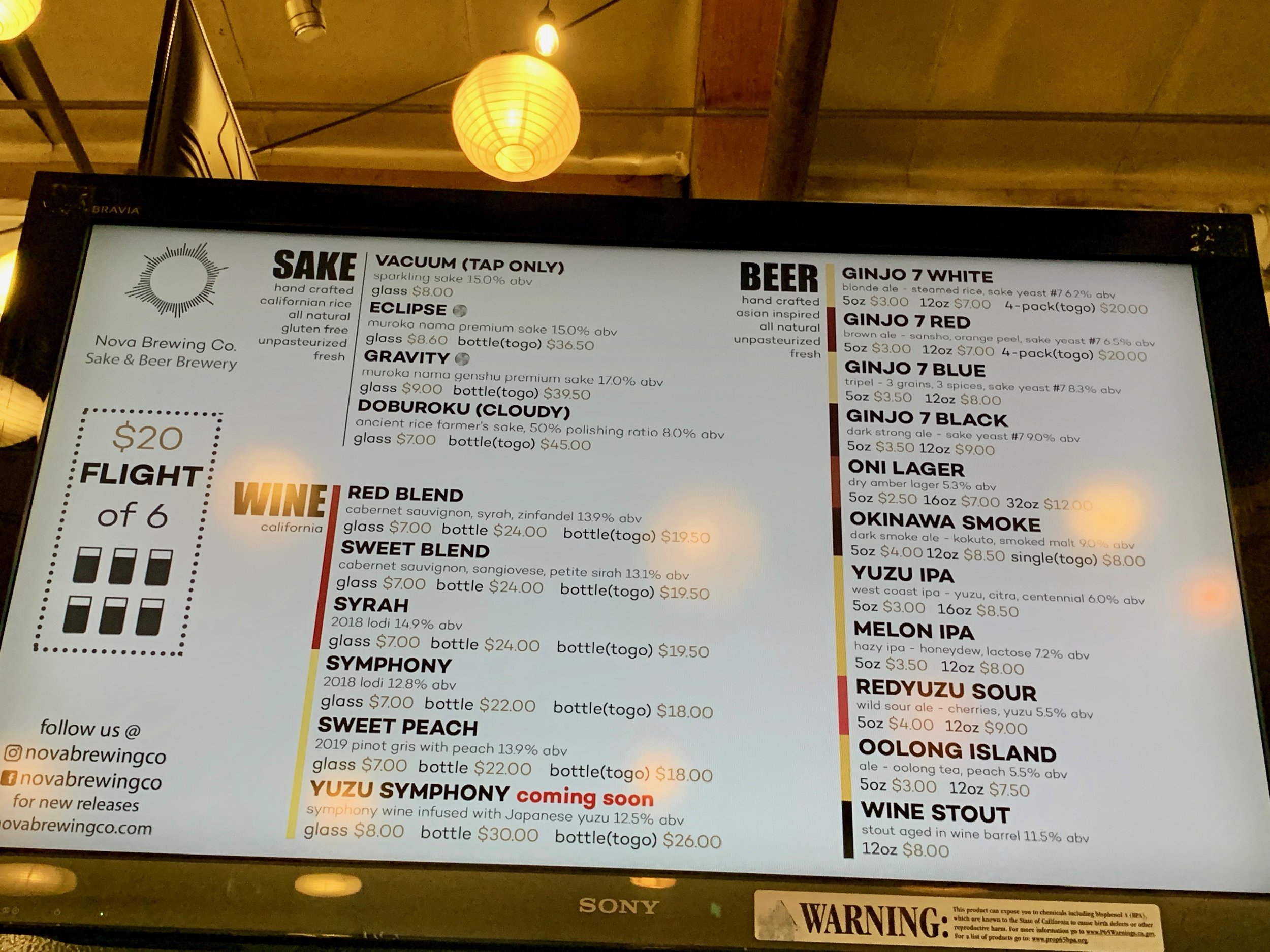 Company co-founder James Jin began his sake journey (like so many others!) through promoting Japanese food and beverages. As a sake sales rep for Mutual Trading Co., falling in love with sake was almost a given once he had access to premium craft sake. It was his first sip of junmai daiginjo—from Yamagata Prefecture's Tatenokawa Shuzo that made him a fan. "I was blown away by how fruity and smooth it was, yet it was just rice, water and koji," he recalls. He went on to add other Tohoku brands to his list of favorites, including Takagi Shuzo (makers of the Juyondai brand) and Aramasa breweries. Today, his love of these makers—along with Hyogo's venerable Kiku-Masamune Brewery—helps shape the sakes he brews himself, big, bold and dry flavors that pair well with western food, especially the food of his native southern California.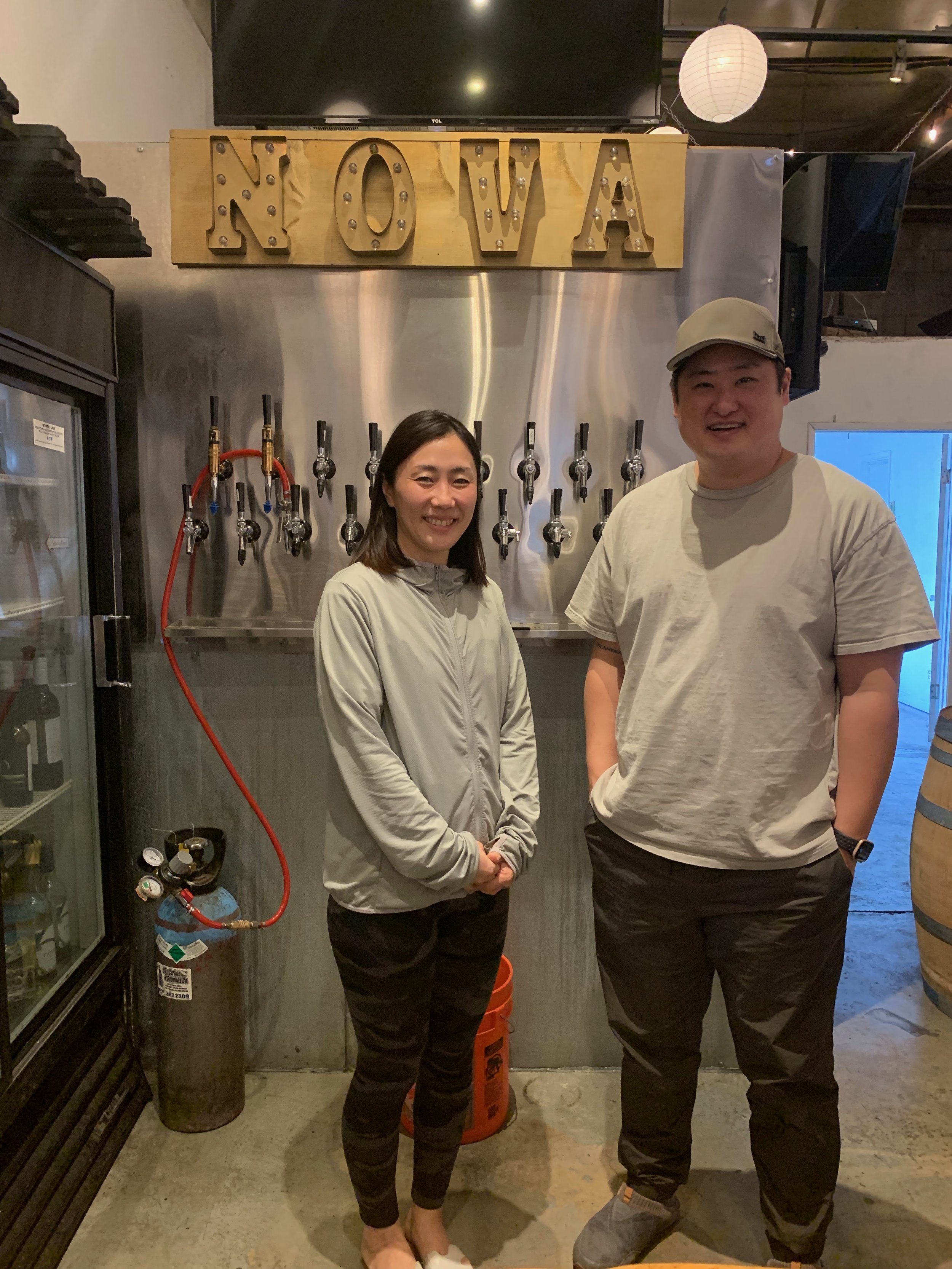 It was while he was studying for his sake sommelier certification at Los Angeles's Sake School of America in 2018 that Jin got to know his future partner, both business and IRL, Emiko Tanabe  (they now have a one-and-a half-year-old daughter, Yuna). A native of Niigata Prefecture, Tanabe owns a vitamin company in Niigata and in the U.S., distributes a soy paper product used as a stand-in for nori. Both she and Jin like to taste sake and explore, so they traveled as far as Hokkaido to visit breweries and take notes on sake production and sales. They wondered why Los Angeles, despite its large Japanese population, had no sake brewery to call its own, and decided to remedy that, hatching the birth of Nova.
They leased a 3,000-square-foot former brewery space in the San Gabriel Valley town of Covina they opened Nova in 2019, where they brew both sake and beer, and sell a Nova brand of wine made by a third-party producer in Lodi, California.
 The couple chose the name Nova, in the sense of "bright new star" to capture their hopes for their new enterprise, explains Jin, an astronomy buff who once taught the subject at a local community college. They launched a sake-promoting Instagram account, @sakeunderground in 2018, and later that year opened Nova.  As Tanabe was assembling the licensing they would need to sell alcohol, in late 2019, Jin headed to Japan. At this point his brewing training consisted of home brewing both beer and sake. He spent several months as a hands-on apprentice at Ibaraki Prefecture's Inaba Shuzo, headed by sixth-generation owner-master brewer Nobuko Inaba. He trained mostly under head brewer in charge of daily operations, Masao Matsuura, then put in a stint at another Ibaraki Prefecture brewery, Kiuchi Shuzo (makers of Hitachino beer as well as sake).
Inaba was "one of the smallest breweries that Mutual was working with, and still using handmade techniques," he recalls. "I wanted to learn that." In exchange for free lodging and his fill of rice, he labored daily in the brewery.Rice made a big impact on him both as a brewer and an eater. "Some of the best rice I've had in my life was the freshly harvested Koshihikari there," he says. All he needed to do to complete his meals, he adds, "was to go to 7/11 for some soy sauce and tamago (eggs)." I know exactly what he means! I would trade many a fancy North American restaurant dinner in exchange for new harvest Japanese table rice—it can be a revelation, even for someone who grew up on Calrose and Tamahikari rice.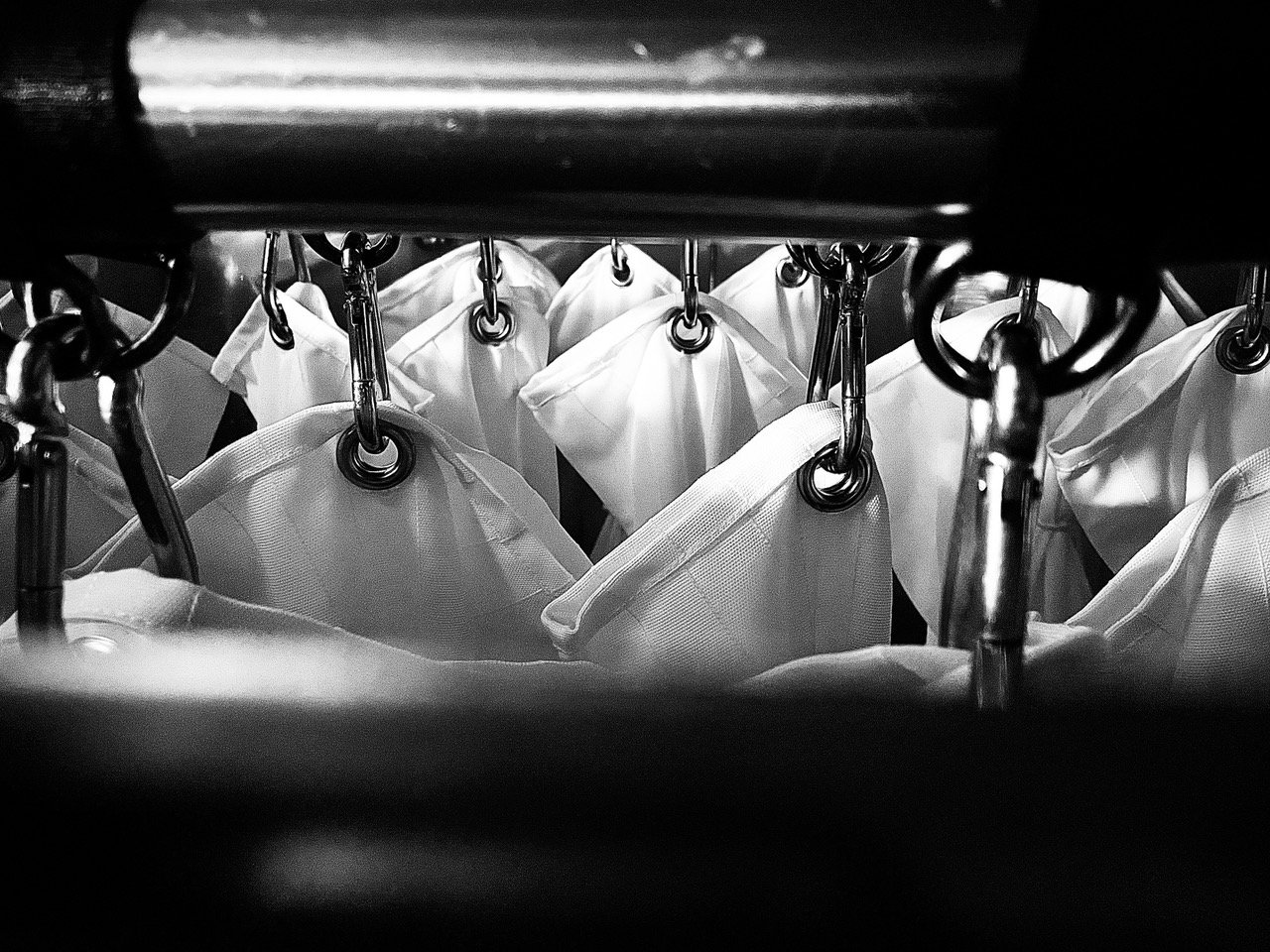 Jin released his first batch of sake for sale in in late summer 2020. All of Nova's sakes are nama, or unpasteurized, and use both the traditional method of pressing called shizuku (drip-method) and Jin's own method of vacuum pressing. Both preserve the integrity and delicacy of the sake's flavor profile and avoid crushing the rice, which can result in harshness and off flavors. Jin's Gravity sake, made with California Calrose table rice polished to 50 percent, is inspired by Inaba Shuzo's delicious small-batch Stella junmai daiginjo sake. Both are drip-pressed, muroka genshu (not charcoal filtered, with no water added post-brewing) labels that start with a fruity sweetness but finish dry.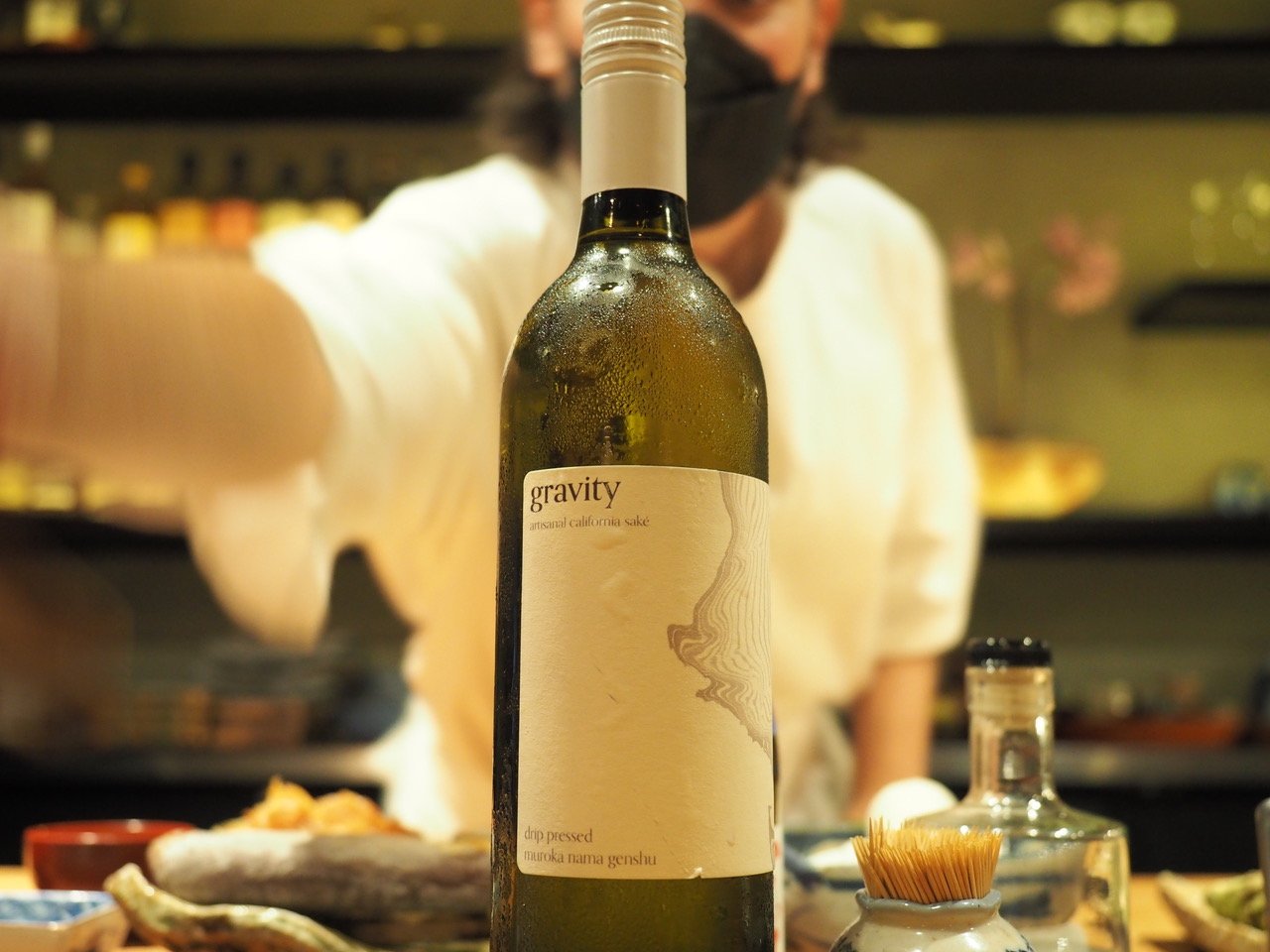 One difference is Gravity's super-high acidity (up to 2.4 percent), which Jin offsets by drawing out its sweetness (SMV -3). Gravity exhibits the creamy lactic notes of unpasteurized sake, but is astringent with a long finish. The label suits Jin's taste for juicy, rich sakes that go with bolder foods like grilled steaks, roasted pork or sake lees-marinated chicken katsu. The label design uses a Japanese suminagashi paper marbling technique of ink drops swirled with water, which echoes the shizuku drip method of pressing, and the name "gravity" also refers to the drip filtering. A nice blend of concept, content and label design!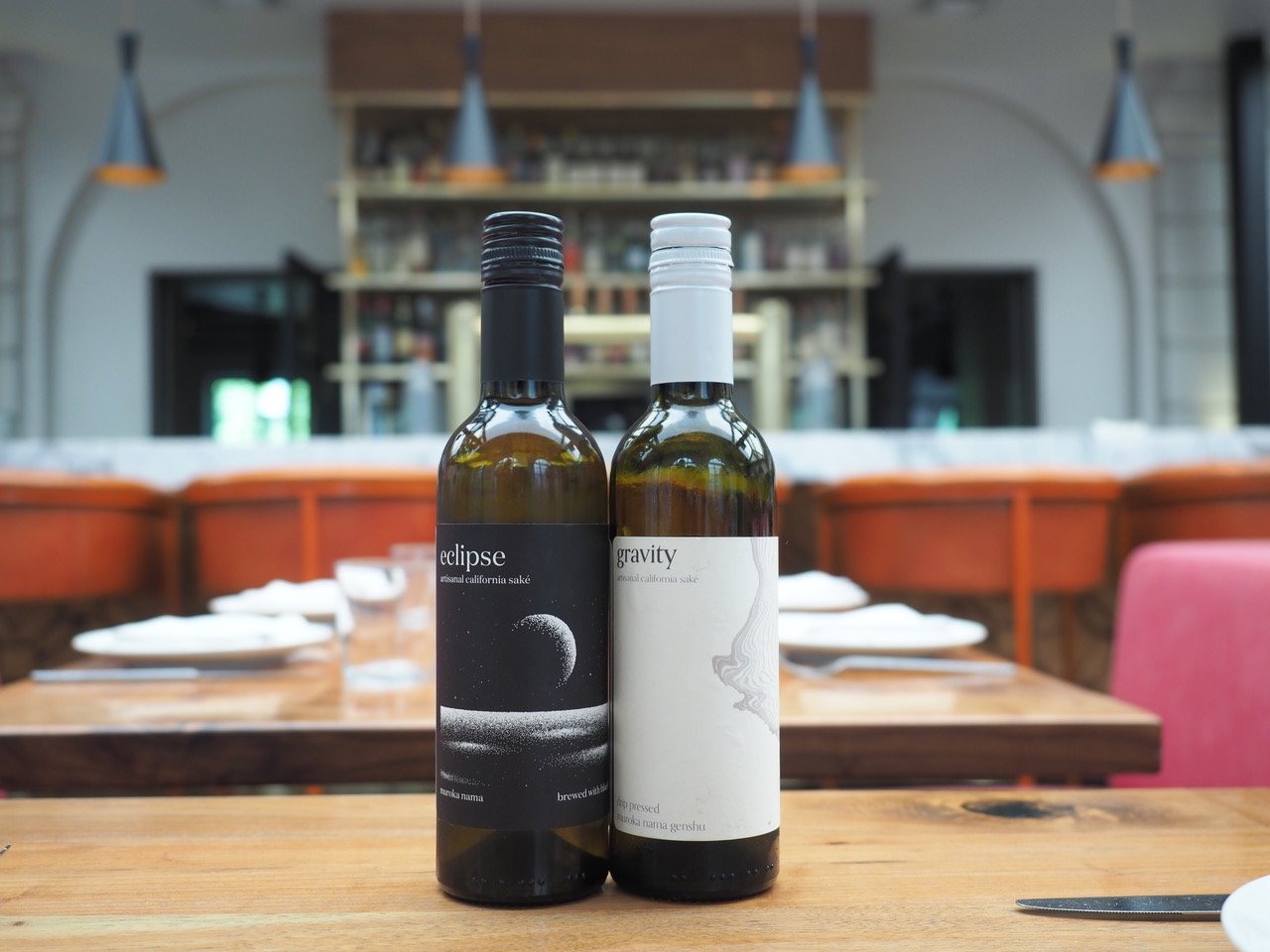 Tanabe's tastes, meanwhile, run toward the sweeter profile of Nova's Eclipse sake, which is brewed using a blend of black koji (used to make Okinawan awamori and shochu) and the more traditional yellow koji. The black koji results in higher, Riesling wine-like acidity, which Jin says was inspired by Ikekami Shuzo's Kurokabuto sake. Again, the name and label design—a solar eclipse depicting both light and dark koji types—reflect the core identity of the sake.
Jin's love of Okinawan drink also inspired his dark, Belgian triple ale-like Okinawa Smoke beer, brewed with kokuto (mineral-rich Okinawan unrefined brown sugar), and cherrywood-smoked malt. Sadly, this beer was out of stock when I visited, but I did try and like his crisp and fruity Ginjo 7 hybrid lager/ale, which he brews with steamed Calrose rice and Kyokai Yeast #701.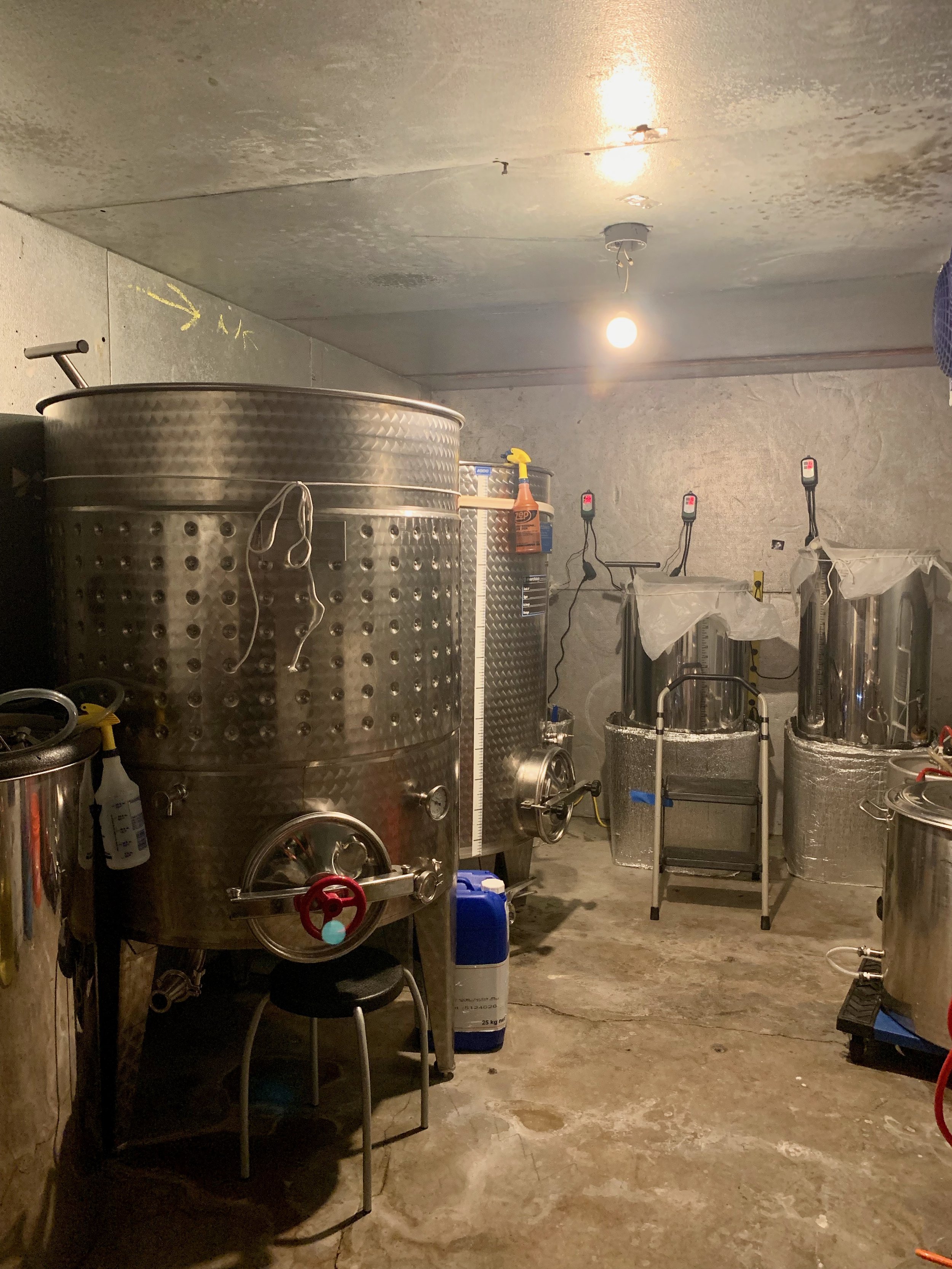 After chatting and tasting in Nova's rustic tasting room, we exited through the back of the building and entered the adjacent brewery space, which that week was dedicated to beer brewing. The room was suffused with the grassy, pungent aroma of hops. In between guiding a new employee through beer brewing basics Jin showed me his beer fermentation tanks, the stacked, dim sum-style rice steamers he bought from a restaurant supplier, the walk-in fridge that serves as his fermentation room, and his small, hand-made and meticulously sanitized koji muro. Every surface that his koji touches, even the koji-buta (koji box) is made of stainless steel , which he asserts is more hygienic than wood and easier to clean.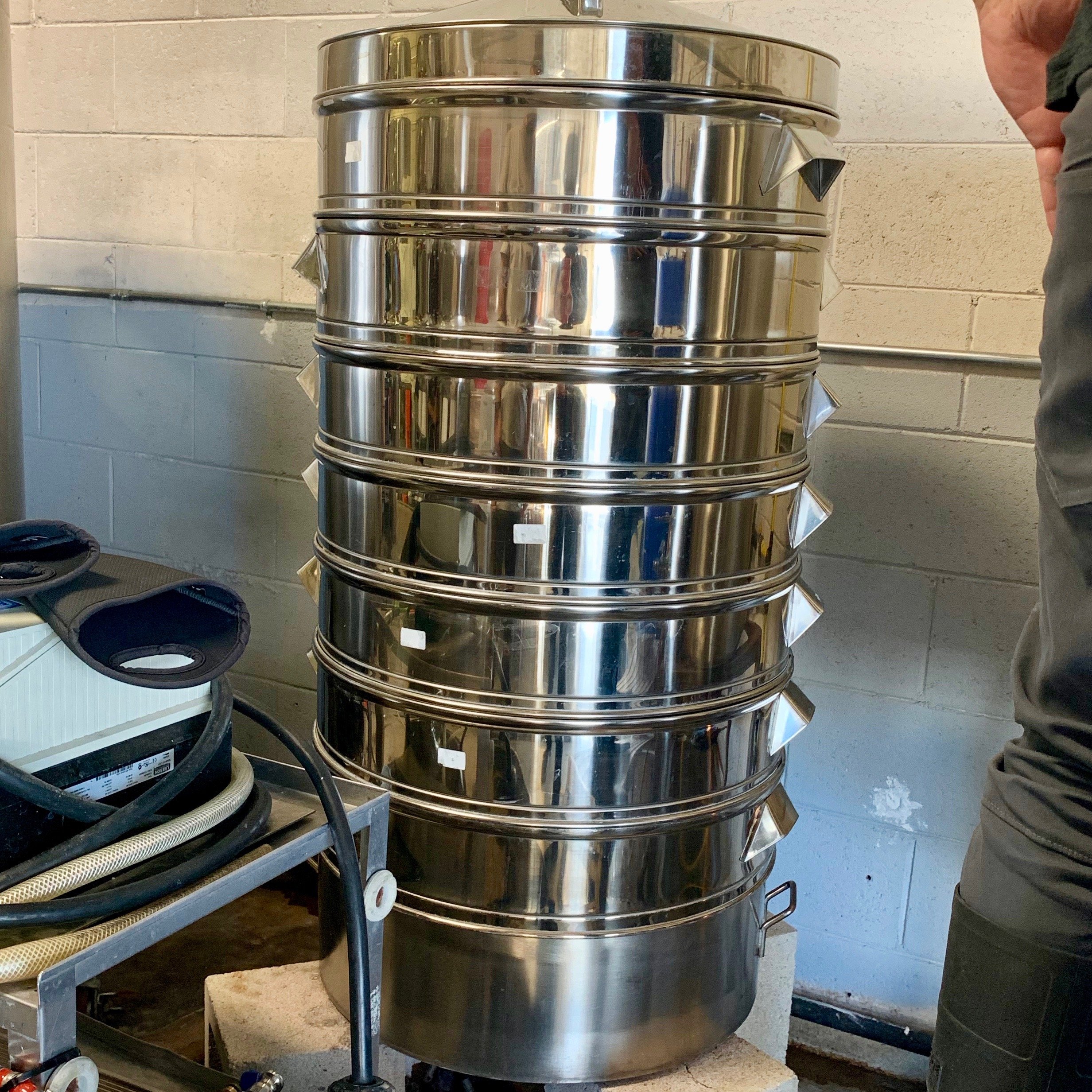 Jin then offered me a taste of mouth-puckering black koji, sourced from Japan. There was also a small batch of yamahai starter that he was experimenting with, as well as an experimental tank of doburoku (the chunky, unfiltered sake that he loves) that he's brewing with cacao nib koji. His discovery: "There's not much starch in cacao, so the koji grown on it didn't produce much sweetness; I had to be blended with rice koji." Although he doesn't have completed doburoku on hand today, in October, to celebrate both World Sake Day and the brewery's one-year anniversary, Nova offered three, eight-seat doburoku-making workshops, all of which sold out.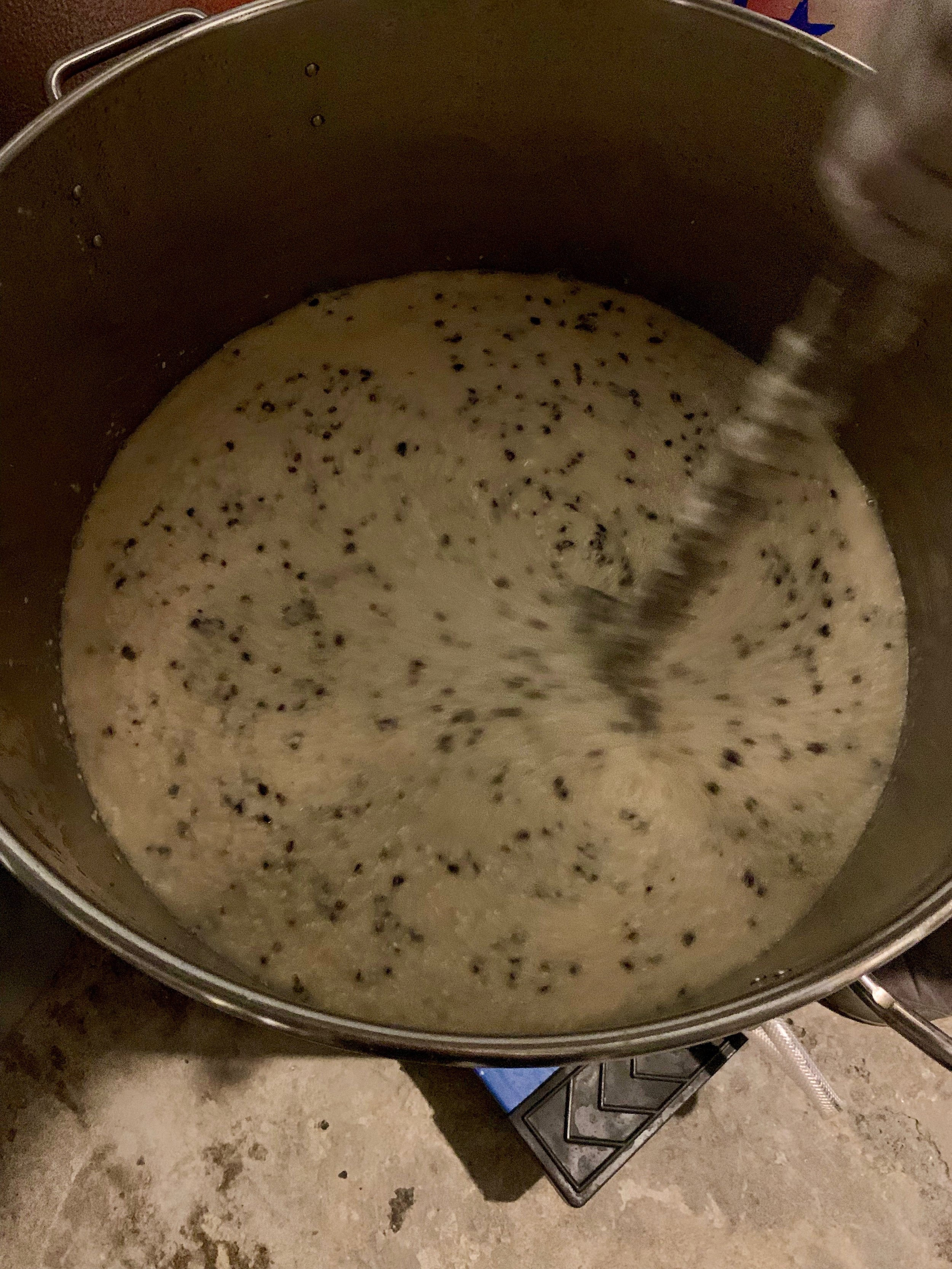 Over time, Jin and Tanabe would like to raise the brewery's profile in the Los Angeles area, promote sake culture, and show consumers how well sake can pair with western as well as Asian food. Jin will continue his doburoku production and education, and ultimately he hopes, create a "sake museum" where visitors can see sake brewing in process and learn about everything from sake pairing to how to use sake kasu (lees) in cooking.
If you happen to be in southern California, check out this map to see where you might be able to find some Nova sake, or just visit the brewery's tasting room!
In Other Sake News…
In my last post, I touted the March 8 release of our book, Exploring the World of Japanese Craft Sake: Rice, Water, Earth. Well, guess what? Covid supply chain issues have made our books miss their deadline, something I myself try never to do. Now the new publication date is May 10, but you can still pre-order from all major booksellers. Stay tuned for more updates!